China
From a dining perspective you could compare Beijing and Shanghai to Washington and New York.  Shanghia has a lot more expats, is really the business centre and is striving for international elegance.  In Beijing places are mostly catering for locals and government types, and foreigners seem something of a rarity, which is rather surprising given it is the capital: we were stared at openly almost everywhere we went in Beijing, but not at all in Shanghai, which is trying for more sophistication.  While in Beijing you should see the magnificent wall, but try and avoid the Badaling section, which is rather tacky.  There are five sections in all open to the public near Beijing, and Mutianyu is only a little further and has far less tourists.  Try and find a clear day if you can (sadly a rare thing in Beijing).  The Summer Palace is also well worth the trip, on a beautiful lake.  The Forbidden City is the other must-see while in Beijing.  If you have limited time, you could perhaps skip the Temple of Heaven and visit a Hutong, one of the old walled areas of Beijing; you can get rickshaw tours and get at least a hint of what life was like before most of the city was bulldozed and made over with concrete. 
See my hotels section for where to stay: in summary, the Grand Hyatt in Beijing was superb, and the Four Season Shanghai excellent. Avoid the highly rated Peninsula Palace in Beijing due to the unbelievably hard beds.
I am indebted to the following web site:
http://bubbler.net/lin/Beijing_Restaurant_Reviews/
for recommending many of the places that I visited; I'd highly recommend it as the places it picked out were just as in his excellent reviews.  First a little on the different style of Chinese cooking.
Beijing: varied, but generally involving quite rich sauces and featuring meat more than some styles.
Cantonese: fresh ingredients, quick stir-frying and steaming are used to preserve the flavours of ingredients.
Dongbei: thick sauces and stews characterise cooking from this area
Guizhou: flavours that are spicy and somewhat tart; tends not to use much onion or ginger
Hakka: emphasises the natural taste of fresh ingredients (central China)
Huaiyang: unusually, elaborate presentation is a feature
Hunan: known for freshwater fish, thick soups and pungent flavours; pepper, shallots and chilli feature heavily
Mongolian: get used to lamb and mutton
Shandong: emphasis on fragrance, light dishes using a lot of garlic and shallots; lots of seafood dishes
Shanghai: delicate flavours sometimes with a sweet taste
Shanxi: stews feature heavily, as do noodles rather than rice
Sichuan: very spicy, with heavy use of chillis, pepper, garlic and ginger.
Taiwan: lots of seafood, a light style using lots of ginger and basil
Tanjia:  elaborate dishes and presentation
Tibetan: mutton and yak meat
Xinjiang: skewered lamb and flat bread; no pork as this is a Muslim area
Yunnan light use of spices and emphasis on fresh ingredients
Zhejiang: light dishes emphasising fragrance
Beijing
Courtyard
Address:

        

95

Donghuamen

Ave, (east gate of the Forbidden City), Beijing, 100027 China
Telephone:       +86 (0)10 6526 8883
Literally just outside the outer wall of the Forbidden City, this place refutes the notion that eating in Beijing is unsophisticated.  The décor could easily be from somewhere in London and New York, while the cooking is genuine fusion rather than traditional Chinese. Peking duck spring rolls were excellent (4/10) but a soup with a tamarind broth and water chestnuts tasted of neither (0/10), Better was salmon with broccoli mash and peppers, and a pork dish with tempura had delicate tempura and a tasty slab of pork. Overall 3/10. They have an extensive wine list with some very serious wines from around the world, and a knowledgeable sommelier.
Made in China
Address:

        
95 Grand Hyatt Hotel
Telephone:       +86 (0)10 6526 8883
Easily the best restaurant we encountered in China.  It is tucked away on the ground floor of the excellent Grand Hyatt hotel, and is famed for its Beijing Duck. The décor is very smart, with a long thin layout.  When booking ask for a table opposite the open kitchen, so that you can see what is going on.  You walk past a cabinet of attractively displayed vegetable produce, past wood-fired ovens and through into an open kitchen area.  We started with a very simple dish of braised cabbage in soy sauce, and as soon as I tasted this I knew that we were in a serious restaurant: the cabbage was remarkably fresh, cooked perfectly to retain crispness, and the soy dressing was very well balanced; this kind of treatment of vegetables is something you rarely encounter outside of top French restaurants in France (7/10).  Hot and sour soup was also in a different league to what one associated with this dish: no oiliness, just crisp, clean flavours balancing the heat of the chilli with the sourness of the vinegar, excellent pieces of seafood in the soup and a garnish of fresh herbs (6/10).  Spicy prawns were also very fine indeed, the prawns large and fresh, marinated and cooked through very well, coated in a delicious spicy sauce (6/10).  However pride of place goes to the Beijing Duck.  The duck arrives at the table glistening, and is carved in front of you into a selection of the skin, the breast meat and the legs, which are served with the traditional pancakes.  The duck skin was truly amazing, succulent, crispy yet full of flavour.  The breast meat, quite light in colour, could have come from a 3 star Michelin restaurant; it was magnificent.  The pancakes were wafer thin and the traditional sauce was also far more interesting than the usual.  I do not think this could be improved upon, and so I have to give this 10/10.  Overall I would rate this restaurant 8/10, easily the best Chinese food I have ever eaten.  We were so impressed that we cancelled another reservation and came back on our last night and it was no fluke: I had the duck again and it was also perfect.  If you only go to one restaurant in Beijing, go to this one.  Go there early in you trip, as you may just want to never go anywhere else.
P.S.  Just opposite the restaurant, still in the hotel, is the delightful Red Moon bar, with live jazz. 
Nam

Nam
Address:

        
7, Sanlitun Bei Lu, Chaoyang District
Telephone:       +86 (0)10 6468 6053
In Sanlitun Bei Jie, near Capital Mansions is a lovely Vietnamese restaurant, situated on a shopping street but from the inside it is decked out in the style of an  old French colonial mansion.  Try and find a taxi who knows where this is, as our driver got utterly lost (though to be fair, he asked around and eventually delivered us).  The tables are generous and widely spread, and there are plenty of tropical plants.  We had excellent Vietnamese spring rolls, light and crispy but they avoided the hardness of the pastry which so often afflicts this dish.  Prawns were delicate and carefully cooked, while a Vietnamese fish special was well cooked and had vibrant spicing.  Excellent and cheap.  Service was pleasant and friendly, and the dishes arrived at an almost scary pace, so perhaps not the place for a relaxed evening.  Easily 2/10. 
Shanghai
Three on the Bund
Address:

        

3 Zhong Shang Dong Yi Road,

 

Shanghai
Telephone:       +86 21 6223 3355
This is one of the glorious 1920s colonial buildings, which in 2004 was restored and converted into an art gallery and designer shopping emporium, with four restaurants.  The 7th floor roof terrace has a fabulous view over the river and Pudong, and is perfect for a relaxing drink.  The restaurants are Laris, New Heights, the Whampoa Club, and Jean Georges (outpost of the New York chef Jeans Georges Vongvichteren).  On the top of the building is a little cupola, which has been cleverly converted into two private dining rooms, each with just one table.  The upper cupula has a table for two, the lower one a table for up to eight.  In these you can eat a menu prepared by any of the restaurants, or indeed even mix and match courses if you wish.  We ate from Jean Georges:
Egg Caviar
Sea Scallops with Caper-Raisin Emulsion, Caramelized Cauliflower
Young Garlic Soup with Thyme, Sautéed Frog Legs
Turbot, Château Chalon Sauce, Tomato and Zucchini
Lobster Tartine, Lemongrass, Fenugreek Broth, Pea Shoots
Broiled Squab, Onion Compote, Sautéed Foie Gras, Corn Pancake
Dessert Tasting
Which as you can see gives you a chance to sample several dishes.  Jean Georges is known for its use of spices with more classical dishes, and indeed this was on show tonight e.g. the lobster with lemongrass had very distinct spices.  The ingredients were very good and the technical execution generally capable, though the scallops were rather overcooked. Desserts were an excellent mix of chocolate dishes, including a fine chocolate fondant.  Overall 5/10 for the food, but the great thing here is the setting.  You of course are entirely on your own except for your waiter, and you look out over the river.  Be aware that this is an original old cupola, so the view is actually rather restricted through the windows, though of course you only have to step outside for a breather between courses and you have the rooftop bar area.  The waiter informed us that Tom Cruise ate here three times while shooting Mission Impossible 3, and Michael Schumacher also came here.  You have the sense from this that it is a bit of an unusual novelty rather than a pure dining destination, but it is a seriously romantic setting.
See:
http://www.threeonthebund.com/
<![if !vml]>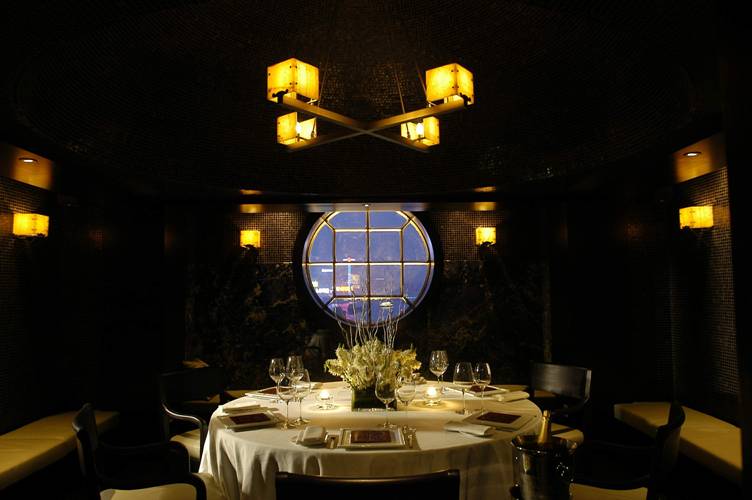 <![endif]>
T8
Address:

        

 

No. 8 Xintiandi North Part, Lane 181 Tai Cang Road Shanghai, 200021
Telephone:        +86 (0)21 6355 8999
Tucked away in the charming pedestrianised French quarter (Xintiandi), this is perhaps the smartest place that Shanghai has to offer, along with 3 on the Bund (above).  The décor is as smart as anything in London, and the menu tries for sophisticated fusion, with an Australian chef.  Chairs are comfortable, the service is exemplary, and the prices also match London.  This was full of expats living in Shanghai.  The food itself was very good, with some delicate scallops, top class prawns in Szechuan style with carefully controlled spices, and good fish.  However there seemed to me just a hint of style over substance here.  The cooking was around 3/10 in my usual marking system, which is OK but quite a lot of money. 
Si Ji Xuan

 
Address:

        

Four Seasons Hotel,

500 Weihai Road

, Shanghai
200041
Shanghai
Telephone:       +86 (21) 6256-8888
One of six restaurants in the Four Seasons hotel, this does Shanghai cuisine as well as Cantonese dishes, from a very large menu.  The cooking is fine and the décor and service excellent, but this is really no better than the cooking in plenty of places in Chinatown in London.  Beijing Duck was just the one you would expect, not in the same world as the magnificent one at the Made in China in Beijing. Overall, a pleasant enough place if you are staying at the Four Seasons and you want a rest from dealing with Shanghai taxi drivers, but not worth making a special journey (1/10).  Dim sum was quite good, perhaps 2/10.